16 of the Biggest and Strongest Rugby Players
Top 16 list of the Biggest and strongest rugby playing beasts.
There are two sports in the world dominated by physical freaks, the American NFL and Rugby. Though vastly different sports, people still constantly debate which sport produce the bigger, stronger or fitter athletes.
Rugby is a game for players of all sizes, with players such as Romain Teulet as light as 165lb (75kg) and with those like Bill Cavubutias as heavy as 365lbs (165kg). Keep in mind though, that rugby players have to run around consistently for 40 minutes each half, not like in NFL where there are regular breaks and intervals, not to mention a massive half time period. That's a pretty impressive feat in itself when you consider the amount of muscle some of these guys have. We've tried to keep the list down to 16 because there are so many beasts in the rugby world, so in no particular order, here's our list of the biggest and strongest rugby players:
Manu Tuilagi
Height:    6ft 1"  Weight:  242lbs / 110kg
One of 6 brothers (all of them rugby playing beasts and three made this list), Manu Tuilagi is the definition of a natural freak and the first of his family to play for a national side other than Samoa. Coming from Samoan ancestry, his thighs are so large he could probably give most pro bodybuilders a run for their money.
Manu has his gym sessions limited by the England rugby squad to no more than ONE session a week, due to the fact that he puts weight on too quickly: "He only does one weights session a week. Any more than that and he would just become too big," said Leicester director of rugby Richard Cockerill. In fact, when he was just 17 years old and weighing in at 260lbs, even when he went pro he was too big and was told to lose muscle to become a more dynamic player. Sometimes life just isn't fair…
According to this article, Manu Tuilagi also has a neck measuring over 20 inches and has to get his shirts custom made by the squad leaders. He runs the 100m sub 12 seconds and he also benches about 200kg for reps. I don't even want to guess what he squats…
Sonny Bill Williams
Height:  6ft 3"     Weight: 240lbs /109kg
SBW is a freak of nature. His speciality is making professional rugby players look like amateurs. And at well over 6ft 3, and 240lbs, he's also rapid on his feet, it often takes at least 2 players to take him down. The guy is seriously ripped too, carrying as little as 6% body fat. Previously, Sonny played rugby league before joining rugby union, and he's now represented New Zealand at both levels. Still, he did take a break at one point to become a professional heavy weight boxer beating the crap out of other boxers for a year or so. To date, he's won 7 out of 7 fights, with three by knockout. He's also incredibly strong and Sonny Bill Williams can also bench press over 325lbs for reps.
Opeti Fonua
Height: 6ft 7"   Weight: 330lbs/150kg
Opeti's weight is listed in the range of 130kg to as high as 150kg on the Agen rugby club website. As well as his imposing size, he's also known for his strength and can bench press 200kg.
The Tongan born rugby player is so large that watching him play doesn't look real and he stands out on the rugby field like a sore thumb.
Eben Etzebeth
Height: 6ft 8"       Weight: 280lbs
At 6ft 8 and 280lbs, Eben Etzebeth must scare the sh*t out of his own family. This rugby player is still under 25 years old, but is such a tank he had to have custom made dumbbells (source) specially made for him, because the 65kg (145lb) ones were, and I quote, 'too light'. The final product: two dumbbells which weigh in at 75kg each! Anecdotal interviews online show players stating that Eben used the dumbbells not for rows or presses, but for curling. Yes, curling. If you read the intro at the start of this list, you'll notice that Eben quite literally arm curls an average sized man.
Edwin Maka
Height: 6ft 8"     Weight: 313lbs/142kg
Edwin Maka is an absolute beast, and at just 21 years of age weighs over 140kg. The New Zealand-born Tongan rugby union player is one of the most physically extreme players in the rugby world at the moment, and his sheer size and speed for his weight is frightening.
He's also known for his frightening strength and can bench press 210kg (462lbs).
Henry Tuilagi
Height: 6ft 1"  Weight: 282lbs /128kg
This man is the size of a small car, but runs the 100 meters in about 11 seconds.
Seriously, Henry is the largest of the Tuilagi Samoan brothers, and he makes the rest look like teenagers. While there are not many figures out there on Henry due to his modesty, one thing is certain, Henry Tuilagi is the undoubtedly the strongest man ever to grace world rugby. Henry Tuilagi bench presses 250kg for 5 reps, raw.
In the rugby world, he's known simply as the 'Butcher'. Just search for Henry Tuilagi and you'll find videos of him pushing aside 250lb men as if they are jelly.
Jerry Collins
Height: 6ft 3"    Weight: 238lbs/ 108kg
According to the BBC website, Jerry Collins' arms measured 21 inches at their peak. For comparison, that puts him in the league of Arnold Schwarzenegger's prime measurements during the time when all he did was lift weights combined with steroid usage. Jerry plays in the back row, which means he has one of the highest work rates of any player for 80 minutes straight. Try seeing Arnold do that in his heyday.
None the less, the team instructed Collins to reduce the size of his biceps because they started to 'interfere with his tackling'.
Sebastien Chabal
Height: 6′ 4″     Weight: 249 lbs/ 114kg
Chabal, known by his nickname as the 'caveman' is as brutal of the field as he is on it and once dismissed an interviewer completely for asking him a question in English. Standing at 6ft 4 and weighting a surprisingly lean 250lbs, Chabal is known for being an impact player, often coming on for short 20-30 minute stints. His role designed for one purpose: to simply run down and physically push the other team to their limits. His training consists mostly of heavy weights and HIT workouts of short intervals.
Andrew Sheridan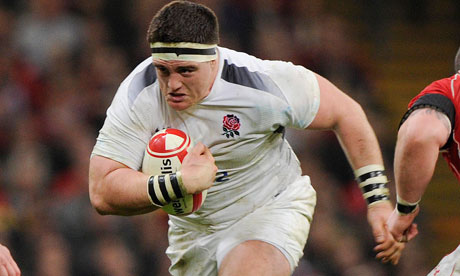 Height: 6ft 5″      Weight: 275 lbs / 125kg
Andrew Sheridan used to be a first choice England rugby player. Years of playing in the front row left him with a 21 inch collar size (source). Andrew Sheridan also bench presses over 495lbs and squats around 600lbs. He is now retired.
Tendai Mtawarira
Height: 6ft 1"    Weight: 256lb / 116 kgs
Nicknamed 'the beast', every time Tendai gets the ball the crowd bellows out his nickname. He's known for his sheer strength and bench presses 340lbs and squats over 540lbs.
He became an internet sensation when he saved one of his fellow teammates from a nasty fall by holding up over 120kg of teammate above his body, bringing him back over his head as if he was a pillow, as you can see from the photo above.
James Haskell
Height: 6ft 4"       Weight: 251lb / 114kg
Haskell is the ultimate definition of a gym rat. His gym tips and fitness videos are just as popular as his non-stop banter on and off the field. James Haskell plays in the backrow for England as both an open and blind side flanker and is one of the most powerful players on the English side, bench pressing 190kg, according to his twitter account.
Jamie Cudmore
Height: 6ft 6″   Weight: 255 lbs
The Canadian monster came to rugby from a troubled past, known as an 'enforcer' for a local drug gang. Rugby supposedly put him on a better path. I would certainly not mess with him.
It would appear that the rest of Jamie's family are also beasts, his brother Daniel Cudmore playing the role of colossus in the X-men movies. He also as another rugby playing brother and all of them are over 6ft 6″.
Alesana (Alex) Tuilagi
Height: 6ft 1"       Weight: 258lbs/117kg
The final Tuilagi brother on this list, Alesana, also known as Alex, was the most well known Tuilagi brother before Manu started playing for England. Incredibly powerful and fast, he runs the 100m in sub 11.5 seconds, and is incredibly fast over shorter ground, making him a formidable opponent. He's one on the most feared rugby players in the world.
There are 100s of fan videos devoted to his destruction and his trade mark ability to floor tacklers, and is virtually unstoppable one on one.   
Sean O'Brien
Height: 6ft 2"      Weight: 238lbs/108kg
Sean is an Irish professional rugby union player from Carlow, Ireland. He's an impact player known for his savage runs and it usually takes two men to kill his momentum.
Sean is one of the strongest players in the Irish rugby team, who can bench press 195kg (430lbs).
Pierre Spies
Height: 6'4″   Weight: 240lbs/109kg
Pierre Spies is another freak of the South African Rugby team. He's seriously into his conditioning, and is totally ripped for a guy of his weight, power and stamina. He is also incredibly fast for his size, running the 100m in 10.7 seconds.
He power cleans 135kg (300lbs), dead lifts 240kg (530lbs) and bench presses 165kg (360lbs).
Bill Cavubati
Height: 6ft 1"      Weight: 364lb/ 165kg
Bill Cavubati is the world's heaviest rugby player, who played for Fiji back in 2005 weighing in at 165 kg (364 lb). There are not many statistics on his strength, but after some serious digging online, we found some old forums suggesting that he bench pressed over 210kg in his prime. Given the photo above, I don't doubt that for a second, the guy is HUGE.
That's the end of the list of the biggest and strongest freaks of rugby!